Mission Statement
Busi Bodies aims to deliver a high-quality Education and Care Service to All children from birth to five years, which comes from a real partnership with parents, staff and other professionals.


OPEN 51 weeks of the year
Monday to Friday from 8am to 6pm
Closed for a week at Christmas and ALL Bank Holidays
AIMS
We help a child to learn and absorb life and their surroundings in their most formative years.
To understand that each child is an individual in his/her own right, but as an individual learns to share, mix and interact with others.
Play is a very important part of learning and a wide range of natural, real and reclaimed resources are provided for the process.
Each child has a key-person, so that person can make good links with the family to support and discuss their child's development.
Fun education
Qualified Team of Early Years Practitioners
Follow children's Interests, to plan and create for their learning
Use Tapestry - An online Learning Journal that parents can interact with
Fun learning experiences with a range of real resources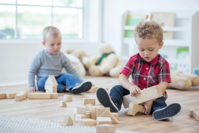 key Person's Role - is someone who
Builds strong relationships with your child
Understands the way your child learns
Build's relationships with you as parents/carers the child's first educator
Monitors learning & development
Meets your child's individual needs
Plans for their next steps
Address's and supports your concerns